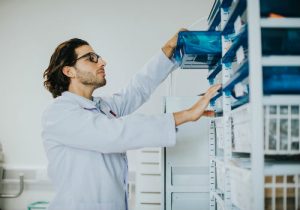 There are a number of factors that influence a business's success. These factors vary from industry to industry, but one element is common to all: A successful business must be organized.
In a hospital, medical supply cabinets on wheels can be the difference between organization and chaos.
Simple storage
The most basic type of cabinet on wheels is a utility cart. Sometimes called multi-purpose carts because of their versatility, these cabinets can be used in any department. They're often used, for example, for storage or quick transport. Some can be as simple as two or more open shelves on wheels, but other utility carts are available with locking drawers for added security.
While these basic carts are obviously practical for general use, your hospital may have more specific needs. This is when you should start looking at more specialized medical supply cabinets on wheels.
Medication Carts
As the name indications, these cabinets are designed for the storage and easy dispensation of medication. To that end, they're built with expansive drawers for storing packaged medicine, liquids, and other supplies. They're also made in an array of sizes to fit different care areas and are designed for maneuverability. They can really lighten a load.
As you might expect, of course, they're also built with an eye toward security. Some are made with simple keyed locks, while others come with keyless entry. The most advanced, however, comes with electronic locks and space for an onboard computer for secure log-ins.
Whether you use a laptop, a tablet, or an all-in-one computer, the best designs include integration for your hospital's preferred type.
Point-of-care carts
Like utility carts, these carts are used all over the hospital. They're commonly used, for instance, as computer workstations. In this instance, they can usually be used sitting or standing and can accommodate any kind of computer. They're commonly made of materials like lightweight aluminum, for quick access around tight corners. They also tend to have smaller footprints for ease of storage.
While many point-of-care carts come with the option to add storage drawers, they can be far more technologically advanced than that. As these are mobile workstations, you'll obviously want reliability. The higher-quality carts, then, include swappable lithium-ion batteries, so your employees will be covered for a full shift at least.
Custom options
While medical supply cabinets available for hospitals are commonly accessible in these three categories, they aren't, however, your only choices. Your hospital might have more precise requirements. If that's the case, then you should look for customization possibilities.
After all, one size doesn't always fit all. You may need larger storage drawers or a bigger display screen. You may need a sliding extension built in or a retractable power cord. Perhaps you'd even like to customize the peripherals.
The best companies will be able to add any tools you need, like printers or barcode scanners.